Oh man, weren't Ouija boards the best? I cannot even begin to tell you the hours upon hours my friends and I wasted gathered around one of those things. Though one of these said friends may or may not have admitted to pushing the planchette, hey, it was sufficiently entertaining for our simple, stupid minds at the time. This was before we drank. Needless to say, we were more than amused to hear that a movie, appropriately named Ouija, is coming out and that it is, indeed, a horror movie. In order to promote said movie, the "Ouija Psychic Terror" prank video was created, and damn, it's quite funny.
"RUUUUUUUUUUUUNNNNNNNNNNNNN!!!!!"
The poor innocent Brooklynites, who no doubt wanted to take advantage of a free reading, got the bejesus scared out of them when their medium, played by Jalisa Thompson, popped out her eyes and a creepy crawly thing busted out of the floor. It seems the latter wasn't even needed -- Jalisa screaming with those eyes is enough to make anyone freak the F out!
Check it out:
The brilliant minds at Thinkmodo created this prank (one of many in order to market horror flicks), and needless to say, this may be more entertaining than the actual movie. Some of those people looked legit terrified! And what was up with that girl's chair at the 1:50 mark? That was crazy.
More from The Stir: 3 Friends 'Possessed' While Playing With Ouija Board Rushed to Hospital (VIDEO)
Sooooo, what do you think? Is the Ouija board a way to channel and awaken spirits (apparently only creepy spirits who want to kill you, as per the movie) or just a fun toy? The movie Ouija comes out on October 24, 2014, so we may have to wait until then to find out for sure.
And make sure you see what happens when this prank is played on Today's Natalie Morales and Jenna Bush Hager.
Visit NBCNews.com for breaking news, world news, and news about the economy
"They were the best reaction of my day!" Jalissa said.
Perhaps it's time to bring out your old Ouija board and have a go of it yourself! You just never know whom you may awaken. And of course, keep in mind what the movie and prank have helpfully taught us: When "playing" with the Ouija board, always be prepared to RUUUUUUUUUUUUUUUUUUUUUUUUNNNNN!!!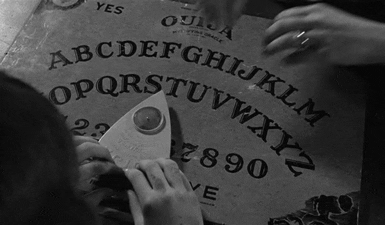 Have you ever experienced any freakiness with an Ouija board?

Image via Ouija Psychic Terror/YouTube
Read More >