Lorelai and Rory Gilmore are headed back to Stars Hollow, and obviously we can't wait to see Lauren Graham and Alexis Bledel on-screen together again. But we're weeping a little at hearing that Melissa McCarthy's Sookie won't be joining the Gilmore Girls four-part special.
Shortly after the Netflix revival was announced, creator Amy Sherman-Palladino said that she'd love to work with McCarthy again, if McCarthy had the time. But, could something else really be going on?
More from The Stir: Gilmore Girls Cast Then & Now: Who Has Changed the Most? (PHOTOS)
McCarthy took to Twitter this week to explain that she was never even invited to be part of the series. Say what now?
Thanks for the invite, but sadly no one asked me or Sookie to come back to Stars Hollow. Wish them all the best!! https://t.co/II2Atug4wx

— Melissa McCarthy (@melissamccarthy) February 2, 2016
Now that's just a crime, because Sookie is one of the best characters on Gilmore Girls. This is basically how we all feel about McCarthy not being invited back.
Preach it, Emily. Gilmore Girls needs Sookie. We don't know exactly what's been happening behind the scenes for this glaring error to occur, but here's to hoping that Melissa McCarthy at least makes a cameo.
More from The Stir: 10 Things You Never Knew About 'Gilmore Girls'
After all, we've learned all sorts of important things from her. Like the best way to deal with our feels when life gets overwhelming (or when you hear Sookie won't be on the revival).
Filming just started this week, so there's definitely still time to invite McCarthy back! Sherman-Palladino has assured fans that Sookie's absence will be properly explained, but you know what would be better? If she were actually there.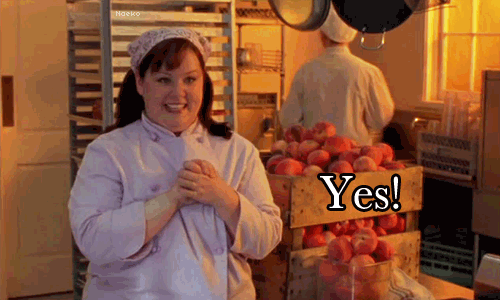 We're rooting for you, Melissa!
Image via Splash News
Read More >