Dylan McKay was too cool for school on the TV series Beverly Hills, 90210, and actor Luke Perry is way too cool for your 90210 nostalgia, you dorks. During an appearance at the Television Critics Association press tour, Perry compared 90210 to the third grade. Harsh!
When asked if he was planning to tune into Lifetime's unauthorized Beverly Hills, 90210, project, Perry openly scoffed. Can you scoff and bite the hand that fed your leap to stardom? Well, he did. Here's how that went down.
"What do you think about Lifetime doing the tell-all?" a reporter asked.
"I don't think about it," surly McCay responded.
"You must have some thoughts?"
"No."
"Why do you think there's still a fascination? It's been a few years since that show went off the air."
"Yeah, I had really cool hair." [SARCASM ALERT]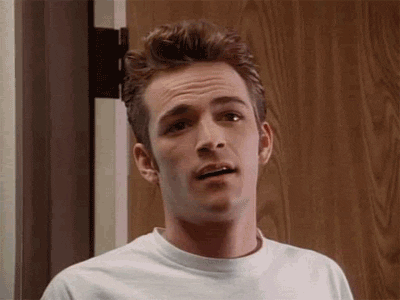 "Why are you so disconnected to that? Why does it not matter to you?"
"Third grade. How much does it matter to you? Exactly. It's not relevant to anything I'm doing. Next question."
More from The Stir: 10 Child TV Stars From the 90s: Where Are They Now?
I mean, come on. We're talking about a show that opened every week with this shot of Dylan nuzzling Brenda like he was Serge Gainsbourg nuzzling Jane Birkin.
And these eyebrow skills? Waste. Of. Talent.
I mean, EYEBROWS!
Does anyone do soulful wounded bad boy like Dylan McKay? Don't answer that.
Look at Dylan being so very fierce and manly as he engages in a hair gel horn lock with Brandon -- like stags competing in the forest primeval.
Ohhhh the psychic pain of being Dylan McKay. Just make it go away, tiny airplane bottle of booze. Make it go away.
For Dylan is a connoisseur of fine liquors, with the sophisticated tastes of a spoiled Beverly Hills emancipated minor.
Stop! Time for another smoldering stare.
Yeah, there's a lot going on there. Deep.
Now watch Dylan impress Brenda with his super-convincing Dean Martin impression. No, she's not embarrassed. Why would you say that?
Yup, Dylan McKay. Definitely too cool for all of us.
Image via Splash News
Read More >