So, Game of Thrones fans, remember in the episode "Mockingbird" when we saw Daario's ass? (That image will have to tide us through to next week, since there is no new Game of Thrones episode this Sunday. More on that later.) Sorry, should I have put SPOILERS? Seeing someone's ass isn't exactly a spoiler in the Game of Thrones universe, so I don't feel all that badly. Anyway, yes, okay, if you don't want to know anything about what happened between Daenerys Targaryen and Daario Naharis in season 4, please stop reading now.
And go watch the damn show. You'll love it.
Anyway, so last week, in a fashion very unlike Game of Thrones, Daario and Dany seemed to have consummated their relationship -- yet we didn't see any of it! Well, we got a sneak peek at Michiel Huisman's very fine derriere as he stripped down for his queen. But that was it!
Seriously, we can see the incest and rapes of other minor characters but not two gorgeous leads get it on? Blasphemous.
Ahem, anyway, after the Internet of course published a lovely screenshot of Huisman's butt, it quickly spread like wildfire. And why wouldn't it? Game of Thrones has been stripping down and exploiting its female characters for the last four seasons -- it was awesome seeing powerful, badass Dany ogling Daario like the piece of meat that he is instead. Okay, okay, two wrongs don't make it right, blah blah blah, but in Game of Thrones universe, this is as feminist as it gets.
But I'm sure Michiel never saw this offer coming. Playgirl is hoping the Dutch actor will bear it all for an upcoming issue in light of the episode. "We saw the episode and we recognized this is a well-known actor who's very, very good-looking," the magazine's publisher, Vincent Stevens, said to E! News. "But we understand why, in that scene, viewers feel they may have been short-changed by only getting a brief glimpse of his butt. We thought if there was an opportunity to reach out to him, our readers would be interested. I'm a big fan of the show and I get why viewers are attracted to him: he's an actor on the rise, he's smart and he's extremely handsome."
If there were ever a Game of Thrones-themed Playgirl issue, I can assure them it'd be the best-selling issue yet.
Come on, just look at him:
And all of this comes in light of the fact that, yes, THERE IS NO NEW GAME OF THRONES ON SUNDAY. I had to shout that at you to express our shared, heartbreaking grief. Seriously. It's just too much to bear. I'm not even sure a spread of a naked Daario in a magazine will make this long weekend any better if we're not getting our Game of Thrones fix.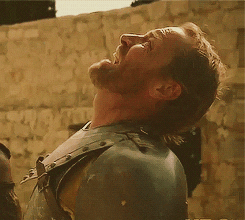 Okay I think the point was well made.
Anyway, there's not much I can say to help tide you over until next week. So all you can do now is continually replay that scene with Daario's ass, then proceed to imagine it high-resolution in a magazine. Probably small comfort to the straight men out there (sorry guys), but seriously, all you have to do is tune in to any GoT episode for your fair share of T&A. Let us have this one!
How are you coping knowing there is no new Game of Thrones episode this week?
Image via HBO
Read More >