As a devout recapper and an ardent fan, I spend a lot of my time in Real Housewives-land. I am the first to leap up and defend the show when others would sneer at it. For all the bickering and bandage dresses (and both exist in Housewives-land in surplus), you can't deny the show one big thing: It's full of strong women with equally strong personalities.
I point this out because it's so rare on T.V. as a whole. Don't get me wrong. There are parts for women, and good ones. They absolutely exist. But only in Housewives-land are the meaty roles for women the rule and not the exception. Oh sure, there are guys on the show, but their entire point is to serve as talking accessories to the women. I'm not saying that's healthy (exhibit all the Housewives marital strife we see in tabloids on the regs). But it's true nonetheless.
We've all got a secret inner Housewife. You know, our id at its purest form. If I had to pick the one who I'm the most like, I'd have to say LuAnn "Countess" De Lesseps. Observe: Appearance and perception MATTER to me. I can be a bit of a snob. I claim to be above drama, but I've been known to be right there in the thick of it. Additionally, nothing makes me happier than the idea of becoming a well-heeled cradle robber and cutting a Dr. Doolittle-type spoken-word dance track for the masses.
How about you -- do any of these ladies' personalities ring any bells where your inner Housewife is concerned?
1. Ramona Singer
Your friends love you. And hate you. You're a savvy businesswoman with a taste for the finer things in life. Okay, with a taste for wine -- but still. Some people might call your eyes "crazy," you prefer "adorably focused." Your intensity knows no bounds. You're passionate, slightly unhinged, and totally unique.
2. Vicki Gunvalson
You pride yourself on being an original. Family is your everything, and while your bark might be loud, it only sounds that way to protect your inner sensitive self. You keep your secrets close, have no time for baloney, and while you pretend to be a prude, you have been known to party like a rock-star with friends and foes alike.
3. Teresa Giudice
If your inner Housewife is Teresa, you are not reading this. Because you do not understand how to turn on your computer.
4. NeNe Leakes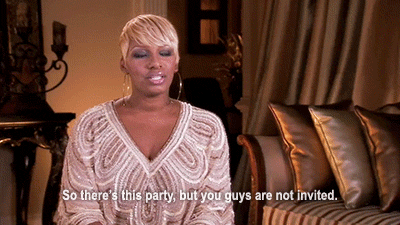 Class in a glass, Ms. Leaks is all about humor, style, and honesty. You're the same way. You don't take your relationships for granted and you expect the people in your life to recognize just how lucky they are to have you. If they forget that fact -- woe unto them, I say. Woe.
5. Kim Richards
If you're Kim Richards, you're an original. You've seen some hard times but you haven't let them stop you. You love animals, earnest conversations, and being a total goof-ball. You might be all-grown-up, but you're still a kid at heart, and you aren't afraid to let that good heart shine.
Which Real Housewife are you; did she make the list?
Image via Bravo
Read More >