I don't know what it is, but it seems like every few months, a star from MTV's The Hills comes out of the woodwork to reveal a surprising secret about the show. I know I personally was horrified when Kristin Cavallari dished about the fake relationships she had on camera.
But now thanks to Lo Bosworth, there's a new secret out. A juicier one. A little piece of information that explains a hell of a lot.
If you were a true Hills fan, you've probably noticed that half of every single scene consisted of awkward stares, dirty looks, and basically any other type of non-verbal communication. Kind of like this:
But get this: they're NOT spaced out morons contemplating the meaning of life on a regular basis. According to Lo, those awkward pauses are not what you think.
When you're in production on a show, you have to do something called taking the 'room tone,' just so that all of the microphones are evened out and the sound on the video is normal. And pretty frequently when we filmed, we'd have to stop for a minute to take 'room tone,' and everyone would have to be quiet ... So they would catch us gazing off into space, and looking like we were really bored or mad ... And then, they'd take those clips of room tone, and edit them into the show to make it look like we were super mad at each other or whatever.
Well slap my ass and call me Brody. All this time we thought they just couldn't hold a conversation. Guess the joke's on us.
Mind. Blown.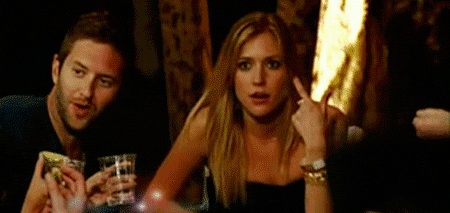 Are you surprised by this confession?
Read More >