From shoe lineups to artfully-performed short stories, you'd think we'd have seen it all when it comes to pregnancy announcements. But one couple is channeling the greatness of the '90s with this Fresh Prince pregnancy announcement that's bound to make Will Smith smile and Carlton Banks break out in dance.
Jason Meek, the dad-to-be, posted the video and within days, it's reached viral status. With just about 1.5 million views, there are plenty of people ready to check out the little one's arrival to Bel Air Oregon.
Take a look at the announcement:
The lyrics are great, the costumes fitting, the rapping is respectable, and the throwback to one of the defining shows of the '90s is very much appreciated. It's a win all around.
More from The Stir: 15 Fabulous Pregnancy Announcement Ideas (PHOTOS)
We've seen parents get more and more inventive with their pregnancy announcements, gender reveals, and name notifications and each one seems to get just a little more creative than the rest.
And truly, who doesn't appreciate a well-executed Fresh Prince rap? Sure, Will Smith was the original great and might be hard to top, but this duo (soon-to-be trio) is giving him a good run for his money.
Now, all together, let's break into the Carlton dance. It's truly the only fitting response: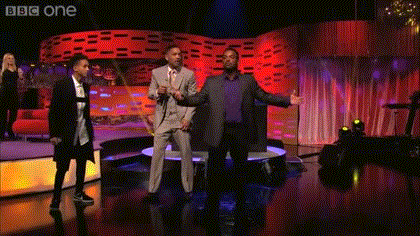 What do you think of this pregnancy announcement?
Image via jesse meek/YouTube
Read More >