While the rest of the world eagerly anticipates the day when actor Idris Elba assumes his rightful place as the next James Bond, one man refuses to accept this reality. Bond book author Anthony Horowitz says Elba is "too street" to play 007.
Too what?!?
Horowitz is the author of Trigger Mortis, the next book in the James Bond series (owned by the Fleming estate). He is not, I repeat, NOT an Eon Productions executive. He has no say in who is cast as the next Bond. So put down your pitchforks and torches. I will, too. This is just the opinion of the guy who's writing the character.
In an interview with the Daily Mail, Horowitz said, "For me, Idris Elba is a bit too rough to play the part. It's not a colour issue. I think he is probably a bit too 'street' for Bond. Is it a question of being suave? Yeah."
More from The Stir: Idris Elba Would Be the Hottest Bond Ever
P.S., "street" is usually a euphemism for "too black." But Horowitz doesn't think it's a "colour" issue, so I guess we have to take his word for it. (Elba is totally too black for him.)
As for the other issue, how is this not suave?

And how is this not suave?
Could anyone BE more suave than this? (The answer is no.)
What about this roll reads as "not suave" to you, Mr. Horowitz?
Just to emphasize that this is SO not a race thing, Horowitz says, "Idris Elba is a terrific actor, but I can think of other black actors who could do it better." Like, for example? Hustle actor Adrian Lester, he volunteers.
This guy?
No. Lester looks like a nice guy. Lester plays the high school principal who really "gets" kids. Lester plays the beleaguered district attorney fighting for justice. Lester plays the banker who's unknowingly financing an evil weapons dealer but then he finds out and after 30 seconds of contemplation decides to do the right thing and help turn the dealer in. But Lester does not play Bond. Why? Simple. Because we are not dying to have sex with him.
But maybe that's Horowitz's real problem. Elba is just too damn sexy for him and he can't EVEN.
Obviously we don't really have to make an argument in defense of Elba because Horowitz is not in charge of casting. But we're just saying. Much suaveness here. So much suave.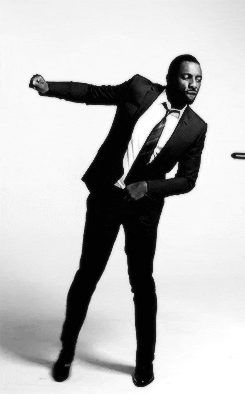 UPDATE: Horowitz has responded to the outcry. He is mortifed!
I'm really sorry my comments about Idris Elba have caused offence [full statement attached] pic.twitter.com/UD6ouA45Uv

— Anthony Horowitz (@AnthonyHorowitz) September 1, 2015
Images via AdMedia / Splash News, Reimschuessel / Splash News
Read More >