What do Shrek, shirtless Patrick Swayze, and Napoleon Dynamite all have in common? They look like they might like "Uptown Funk," that's what. Or, at least that's what one YouTuber thought when he remade "Uptown Funk" with clips from 280 different movies. And he was right. He was so, so right.
This video, nay, this ... this ... art made us realize some things. Mostly, it made us realize that the sole purpose of some movies (like, say, Fat Albert, for example) was for them to be made into a remix of "Uptown Funk." Don't believe me? Just watch:
Hot damn!
Let's start with the obvious: What even was the point of Robert Downey Jr.'s controversial character in Tropic Thunder if not to stand there and say "hot damn"? And what was the point of his saying that if not to be spliced over Bruno Mars saying the very same words?
I'm so pretty
"I'm so pretty"? Give me a break. The delivery of this line from Streamers is so perfect that it couldn't exist and NOT be included.
Hey! Hey! Hey!
Classic example! Pretty much no one cared about the 2004 live-action remake of Fat Albert, except the only guy who mattered: the genius behind this "Uptown Funk" video.
Michelle Pfeiffer
Honestly -- what are the chances that, in The Bucket List, Jack Nicholson would just casually stand there and say Michelle Pfieffer's name? Slim. This was obviously written in with the intention that it would someday be included in the very video we're watching today.
Watch
Thanks, Christopher Walken. Thanks for being you, and more importantly, thanks for saying "watch" while holding a watch and then twitching your eye. You made this video possible. Thank you.
Now that you're prepared, it's time to funk it up:
So, yes. This is genius. The creator should go down in Internet history somewhere for having a lot of free time. But ... there's just one thing. How many times do they say "Hallelujah" in "Uptown Funk"? Enough that it's unforgiveable that he forgot to include Sister Act, a.k.a. the home of THE most important movie Hallelujah of all time: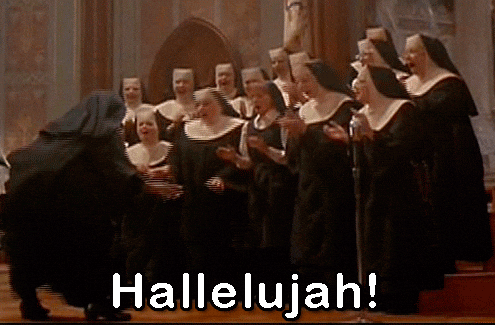 Images via dondrapersayswhat/YouTube
Read More >