Forget everything you've been told about how unhealthy butter and cheese are. Butter isn't bad for you after all, say scientists. Cheese balls for everyone! Let's celebrate! By bathing in butter! Or maybe by doing something slightly less enthusiastic.
Apparently all that advice dietitians gave us back in the 1980s (were you even alive then???) was based on flawed research. In fact, an entire generation of Americans has been raised on a low-fat/fat-free diet, and it just made us SICKER.
More from The Stir: 6 Reasons Why Skim Milk Is a Total Scam
You guys. Younger and "alternative" nutritionists have been telling us fat is healthy for years. Finally the medical establishment has copped to their error. But you know what? No hard feelings. I say, it's time for a butter-palooza!
Introducing DJ Dizzy Deen, y'all.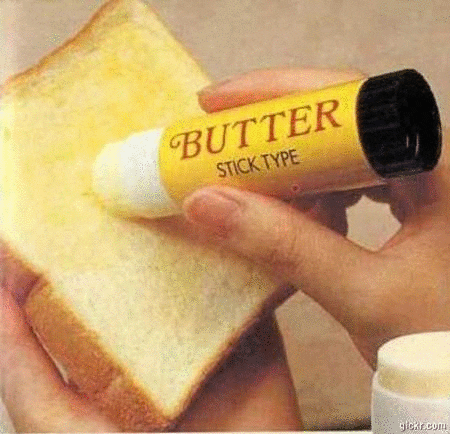 Honey Boo Boo, what do you want for supper?
Yes, you do! Homer Simpson, you know what we're talkin' about.
What's that you say, Regina?
NO REGINA, BUTTER IS NOT A CARB! Let's dance.
Nom nom nom nom.
Parks and Recreation's sage Andy Dwyer speaks for me:
Truth.
It's a happy day, America. Now go out and enjoy your butter.
How do you feel about milk fat? Are you surprised at this news or did you know this all along, deep in your well-fortified bones?
Image via eelnosiva/Shutterstock
Read More >