Just ask James Franco: It's damn hard hosting an awards show. So when it seems that the host is right, you might as well lock 'em up for as long as you can. That's why the Golden Globes will be hosted by Tina Fey and Amy Poehler ... for the next two years.
Makes sense. And this is really great news, as the twosome were fantastic the last time they hosted. Reportedly, when they were hosts, the Golden Globes reached 19.7 million views, a six-year high. It was also up 28 percent in that much-needed, hilariously important 18-49 demographic. The folks behind the Globes can only hope that this fascination with these two funny women won't wane in the next couple years (it won't). Can't wait to see what they can come up with and if they can top their initial performance.
Kudos to the two of them for paving the way and for proving that women can be funny. Take that, NPH!
So here's why they'll be fantastic hosts, in gif form. You're welcome!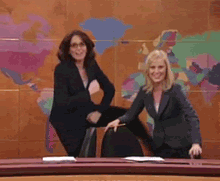 You two are the ... sis-mance stuff dreams are made of. Congrats on the hosting gig. Let's celebrate!
And who could forget this? These two would probably run the country better than our current f*ckups in the White House.
Let's just hope their balance is better this time around. Perhaps lay off the booze?
Hilarious moment from the Golden Globes. Looking forward to seeing many more the next two years.
They can rock gorgeous evening gowns yet still embrace the inner trash, alcoholic side of their personalities.
... Since they know the particular torture of what it's like to be an audience member.
And they can even do amazing photobombs with each other.
Of course, as best friends do, they're always looking out for each other, always willing to offer some super important advice.
Preach!
You two rock. Can't wait to see what you have in store for us for the Golden Globes (twice!)! Whenever they might be ... (ok, I googled it for you, they'll be on January 12, 2014!).
Are you excited to hear Amy and Tina are hosting the Golden Globes? Surprised it'll be for the next two years?
Image via © Frank Trapper/Corbis
Read More >