Xavier Collin/IPA/Splash News
Looks like this actress just secured the award for "Daughter of the Year." Mila Kunis surprised her mom and dad with a complete makeover of their California condo, and their reaction to the fabulous changes she made are beyond priceless. Let's just say the Bad Moms star has some good taste!
The mom of two partnered with Los Angeles–based designer Breeze Giannasio and home company Houzz to give her parents' place a face-lift.
In the My Houzz video that showcases the makeover, the That '70s Show actress likened the home she grew up in from the age of 9 to "Miami Vice circa 1994." Funny, but also a wee bit true. (Sorry, Mark and Elvira Kunis.) Still, Mila explains that the home holds a lot of sentimental value to her as it's where she lived when she graduated high school and her acting career took off.
Though she was nine months pregnant at the time of the makeover, the devoted daughter didn't let that stop her from giving her parents, who moved to the US from the Ukraine when Mila was just 7, the surprise of a lifetime!
Take a look at the stunning before-and-after photos of Mila's mom and dad's newly improved place.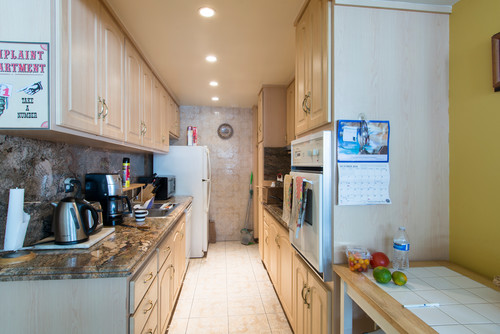 Mila was concerned that whoever was in the kitchen felt "isolated from everyone else." So, ta-da!
Look at how bright and airy it looks! The column instead of the wall really opens up the floor plan and creates a much nicer flow. We love that big farmhouse table, too.
"There's just so much more air and light in that room, and I think that will translate into their whole life," said Mila, who imagines her parents will do a lot more entertaining now. "I definitely think there's gonna be a lot more Sunday dinners there."
After seeing the room, her dad, clearly a proud grandpa, joked that there would be room for at least six grandchildren. Mila adorably asked that he not start any rumors. Too cute!
More from CafeMom: 15 Celebs Share Refreshingly Real Advice for New Moms
This furniture does look a bit outdated in this before shot: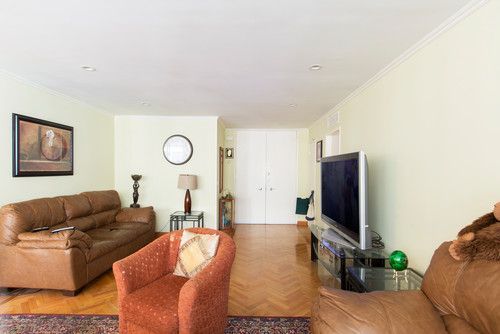 More from CafeMom: 15 Celebs Share Refreshingly Real Advice for New Moms
Fortunately, Mila made some vast improvements. We love how crisp and clean it looks now!
More from CafeMom: 15 Celeb Parents Reveal Their Kids' First Words -- & Some Are Reak Doozies
And look at it from this angle -- so gorgeous:

Mila's parents loved it too! As beautiful as it turned out, even more lovely are the sentiments Mila expressed at the end of the segment when she said she wanted to do something for her parents who worked their whole lives but rarely did anything for themselves. Aw! So sweet.
"Thank you for always being there for us kids. We love you!" she said.
To a mom and dad, that's worth just as much as a fabulous new living room. To watch the Kunises' condo come together, watch the video below.
Read More >