The perfect family you've always wanted to be part of is forming as we speak. Remember how Amy Schumer and Jennifer Lawrence are writing a screenplay together about being sisters? Well, Amy and JLaw's mother has just stepped up: Bette Midler. Yes, movie gods, please make it so!
We know this is perfect and so does Bette Midler. She volunteered via Twitter.
Amy Schumer & Jennifer Lawrence are co-writing a screenplay about sisters. Hmm, who could play their mother? She'd have to be DIVINE!

— Bette Midler (@BetteMidler) September 1, 2015
So yes! Bette is the perfect brassy, loudmouth, blond comic to play JLaw and Amy's mother. That would be brilliant. Look at what a weirdo she is.
(N.B. not her real teeth.)
More from The Stir: Amy Schumer & Jennifer Lawrence Should Just Film Their Screenwriting Process & Call It a Day (GIFS)
With Bette on board there could be musical numbers, which you know Amy and Jen would be up for joining.
And slapping! Tell me there's a mother-daughter-sister slapping scene in there.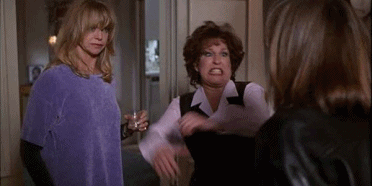 She's already declared her love for Jennifer Lawrence.
Jennifer Lawrence is so charming that she could run me over with her car and I'd send her a thank you note.

— Bette Midler (@BetteMidler) March 3, 2014
More from The Stir: Inside Scoop on Jennifer Lawrence & Amy Schumer's Vacation From Someone Who Was Definitely, Totally There (PHOTOS)
By the way, when Midler says "she'd have to be DIVINE," she's not referring to the transvestite actor famous for appearing in John Waters films. Sadly, that actor died in 1988. (But that casting would have been another kind of awesome.)
No, Midler is referring to her 1972 debut album, "The Divine Miss M."
She kind of looks like JLaw there, doesn't she?
So what do you say? This is happening, right? Bette Midler HAS to play Jennifer Lawrence and Amy Schumer's mother. She just has to.
Don't leave her hanging. It's for the girls! She's a legendary funny woman. Who else could be more perfect? (Don't say Meryl. Don't say Meryl.)
Image via Roger Wong/INFphoto.com/Splash News
Read More >