Oh boy, the 2015 MTV Video Music Awards are on this Sunday night, and given their history for making history, we can't wait to see what happens. Especially considering that MTV has reportedly given hostess Miley Cyrus free rein with the show to do whatever she wants.
According to VMA executive producer Garrett English, the network is letting Miley do what she wants with the Video Music Awards. He said, "Obviously there are standards and various other things that were always a part of it, but no, [no rules] ... It never comes from a place of trying to limit the range, it's always coming from a place of trying to open up the full palate."
More from The Stir: MTV VMAs 2014: Best & Worst Looks of the Night (PHOTOS)
"Miley has been fantastic," English continued. "It was sort of a logical extension of conversations that we're happening. Both her camp and ours were immediately excited by it."
In the spirit of hoping for the most spectacular awards show in VMA history, here are some of the best moments that Miley will have to top this year.
Britney Spears Dances With a Python (2001)
During her performance of "I'm a Slave 4 U," Brit Brit slithered on stage with her reptile friend.
Madonna Opens the First Ever VMAs (1984)
And basically sets the standard. Writing on stage in a wedding dress, singing about being touched for the very first time? Yup, that'll do it.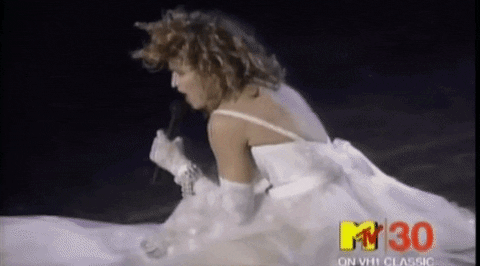 Miley Cyrus Twerks on Robin Thicke (2013)
Speaking of Miley ... this "Blurred Lines" performance not only distanced her from her Hannah Montana character, it also seemed to be the downfall of Mr. Thicke's marriage to Paula Patton. Whoops.
Diana Ross Feels Up Lil Kim (1999)
And really, can you blame her?
Madonna and Britney Make Out (2003)
Madonna's song "Hollywood" may be a distant memory, but this kiss will live on in infamy.
Lady Gaga's Meat Dress (2010)
It's one thing to love bacon, but another entirely to wear it.
Michael Jackson and Lisa Kiss (1994)
They were married less than two years, but this awkward meeting of the mouths will be seared on our brains forever.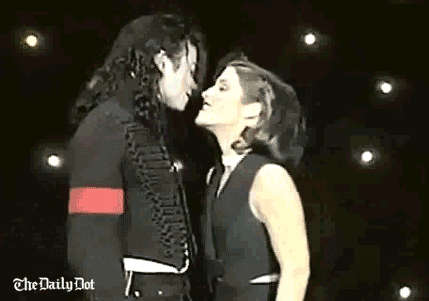 Britney Spears Strips (2000)
Just how many of these moments include Britney Spears anyway?
Queen Bey Announces She's Pregnant (2011)
We first learned of the coming of Blue Ivy when Beyonce rubbed her barely-there bump. Is it too much to ask for a sibling announcement this year?
Kanye West Interrupts Taylor Swift (2009)
Imma let you finish, Kanye, but this was one of the best VMA moments of all time.
Image via Miley Cyrus/YouTube
Read More >