Dreams are coming true, you guys. Jennifer Lawrence and Amy Schumer are writing a screenplay together, which is basically bound to be the best thing ever. Do they give Oscars for comedies? They should, because this would probably win.
Jen and Amy made headlines this summer when they vacationed together, and we all desperately wished that we had been there too. Apparently, this dynamic duo has hit it off professionally as well, and they are just about done penning a movie manuscript for the big screen, in which they will play sisters.
JLaw let the news slip during an interview with the New York Times this week, when she was supposed to be promoting her last installment in the Hunger Games series, Mockingjay -- Part 2, but the conversation inevitably veered off-topic, and Katniss Everdeen's alter ego let us know that she has another project in the works.
Lawrence is teaming up with Schumer (the mastermind behind Trainwreck) in a project that they are writing the screenplay for, and will star in themselves. "We play sisters," Jen said. "We're almost done writing. It just flowed out of us. We've got about 100 pages right now."
More from The Stir: Amy Schumer Turns Mean Tweet Into a Work of Art (PHOTO)
"Amy and I were creatively made for each other," she continued. "We have different flavors. It's been the most fun experience of my life. We start the day off on the phone, laughing. And then we send each other pages. And we crack up. I'm flying out tomorrow to see her in Chicago. We'll write a little bit with her sister, Kim, who worked with Amy when she was writing Trainwreck."
The fast friends apparently met just a few months ago, Lawrence admitted while explaining their insta-click with each other.
"I emailed her after I saw Trainwreck and said, 'I don't know where to get started. I guess I should just say it: I'm in love with you.'" The Silver Linings Playbook star added, "We started emailing, and then emailing turned to texting."
Texting apparently led to the creation of a new screenplay, and we're thinking that maybe they should have just filmed themselves during the writing process, because it sounds like that in itself would be hysterical. Can you imagine?
First things first -- you know that snacks would be involved, making us feel much better about munching away on the buttery goodness of movie theater popcorn.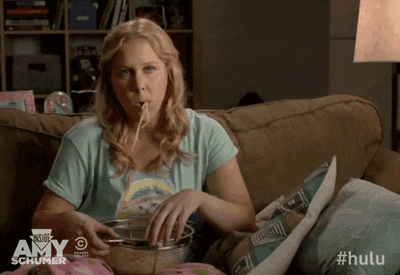 And sex jokes galore. Obviously.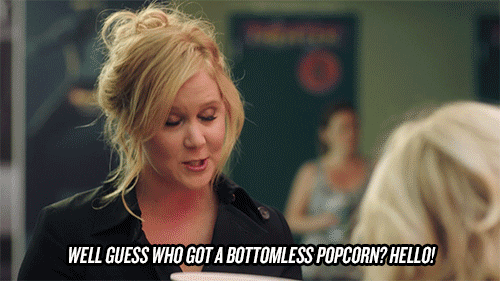 Plus plenty of jokes against the fat-shamers, because let's face it -- Hollywood is ridiculous when it comes to skinny.
And just a lot of flattery. Because that's the way it needs to be.
Jen and Amy -- we love you already.
No matter what, this movie is going to be awesome. During the NYT interview, Lawrence told the reporter, "Let me just text Amy and tell her that I told you."
She got an immediate response that caused her to laugh out loud. She confessed, "I wrote, 'I just spilled the beans to the New York Times. Is that O.K.?' ... And Amy wrote back, 'That you're gay? Totally! It's exciting!'"
We can't wait to see this movie.
Images via Splash News & Nick Zonna/Splash News
Read More >