If Kourtney Kardashian and Scott Disick's recent split is the real deal, it's safe to say that we won't be seeing much of Lord Disick on KUWTK in seasons to come. But that doesn't mean we won't be seeing him on TV at all -- word has it Scott might be joining Dancing With the Stars!
The cast of DWTS Season 21 won't be officially revealed until September 14, but if there's any truth to the rumors, Disick will be on that list -- and the idea isn't all that far-fetched, to be honest. In fact, it sort of makes perfect sense -- even if it is pretty cosmically unfair that Scott's getting a new gig out of his breakup with Kourtney, considering the fact that Kourtney dumped him because he'd been taking her for granted (and probably cheating on her) for years. I mean, what kind of BS is that? Treat the mother of your children like dirt and get a big huge sparkly famous job as a reward?? This isn't how karma is supposed to work.
Still, putting all that aside, this is exactly the kind of thing we can see Scott doing, for a variety of reasons.
1. Scott Disick loves costumes.
Any time that guy gets the opportunity to dress up in something flamboyant (smoking jacket? walking stick?? eye patch???), he's all over it.
2. Scott Disick is an attention hog.
Watch me learn to play the piano! Watch me shoot an alligator! Watch me race a car! WATCH ME DANCE!
3. Scott Disick needs a job.
Hey, those Vegas appearances are gonna dry up sooner or later.
4. Scott Disick likes cozying up to pretty girls.
Why do I feel like he's gonna suggest some dirty dance moves??
5. Scott Disick is confident as all get-out.
Oh wait, I meant to say arrogant. Scott Disick is arrogant as all get-out. And we all know you need plenty of arrogance, er, confidence to win DWTS.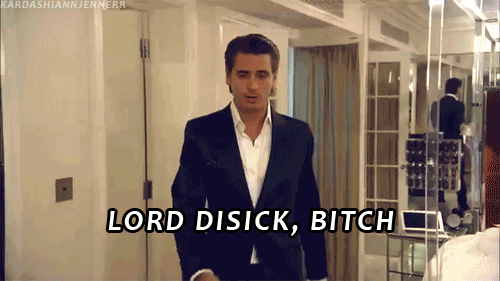 From the standpoint of an entertainment-starved spectator, I say Scott Disick SHOULD join DWTS. 100 percent. No doubt in my mind. And I will watch every second of that trainwreck.
More from The Stir: Scott Disick Is Acting Like Somebody Who Wants His Family Back (And It Might Work)
But from the perspective of a sane woman, I think he should probably step out of the spotlight for a while, just, you know, to show a little respect to the mother of his three children.
Of course, that's not gonna happen. So bring on Lord Dancin' Disick!
Image via letthelordbewithyou/Instagram
Read More >