Aside from the fact that we love Neil Patrick Harris and all his silly jokes (hello, even in that underwear and black socks Birdman reference; Neil, oh my!) and the performance of "Glory," the Academy Awards has been its usual snorefest of talking with a tame fervor of polite clapping. So thank God, Oprah was there reacting to it all. Because Oprah reacting made the night truly awesome.
Oprah was SO EXCITED earlier tonight she ran the red carpet to the Oscars. Literally ran. Go Oprah! Get that Oscar!
Then in his opening number, NPH called out Oprah for how rich she is, and she was like "Really, NPH? I KNOW. I KNOW!"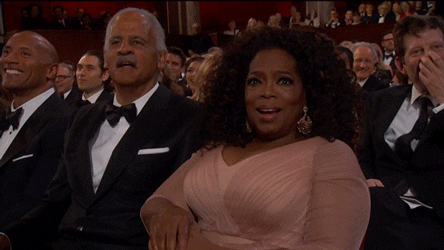 Finally, she got the Oscar (well, sort of). And she was like -- "OHMAGAH. LEGO MY OSCAR!!!"
During a lull in the show, though, Oprah got a little bitter when she remembered that the odds were against her for the win. Lego. My. Oscar.
But she snapped out of it to present the Best Adapted Screenplay Oscar. She even pulled out her famous Oprah Winfrey Show voice. "Check under your seats, everyone. You've won a Golllllden Oscaaaarrrrrrrrr!!!"
Oprah knows she looks good tonight. #Oscars pic.twitter.com/Fv7HAHPFOU

— People StyleWatch (@StyleWatchMag) February 23, 2015
The only thing better would be if she yelled. "Stop! Lego my Oscar!"
To quote winner Graham Moore, "Thank you so much to The Academy and Oprah for this." For making sure everything was awesome tonight.
What'd you think of Oprah tonight?
Read More >