The 2014 Emmy nominations are in! And wouldn't you believe it -- Game of Thrones season 4 leads the pack with a whopping 19. Which is fantastic! Okay, okay, so all the shows up for best Drama Series, Breaking Bad, Downton Abbey, Thrones, House of Cards, Mad Men, and True Detective, were awesome in their own right, but Thrones was simply at another level compared to the rest of them. Granted, Breaking Bad's last season was also incredible, as was the first spectacular season of TD, so it could be anyone's guess as to which show wins the really big prize -- but it's still nice to see GoT racking up so many noms.
Fargo comes in second with 18 nominations, and American Horror Story: Coven has 17. The AIDS drama The Normal Heart received 16, as did Breaking Bad, yay! Some pretty great television from the past year, eh?
But Game of Thrones reigns supreme at 19. Let's take a look at 19 reasons why in a tribute to season 4.
There are some pretty MAJOR SPOILERS for GoT season 4. Though it's a damn shame if you haven't watched by now.
So go away and feel badly about everything you're missing.
Spoilers spoilers spoilers ahead.
Okay, ready? Here we go.
1. Remember in the season premiere, "Two Swords," when it looked like Tywin Lannister was completely untouchable after the Red Wedding? Remaking Eddard Stark's sword into swords for his own son and grandson? Little did he know:
2. Pretty much anything the Hound said before he got into that big fight with Brienne:
3. Joffrey DYING(!!!!):
4. The introduction of this beautiful man, Oberyn Martell:
5. Jaime waving his fake hand:
6. Tyrion dancing at his trial. And of course the badass speech from the TV version:
7. Daenerys Targaryen with her dragons in happier times:
8. The Red Viper announcing this:
9. When Stannis Baratheon took out the wildlings in this amazing, sweeping shot:
10. Daario reminding everyone he's a badass even though he was recast:
11. Ser Pounce!
12. Podrick being Podrick and teaming up with Brienne:
13. When Tyrion does this to his father. Happy Father's Day, Tywin:
14. This obviously was quite sad, but Ygritte saying her last "You know nothing, Jon Snow" had to be included:
15. Petyr Baelish shoving Lysa Arryn out the Moon Door: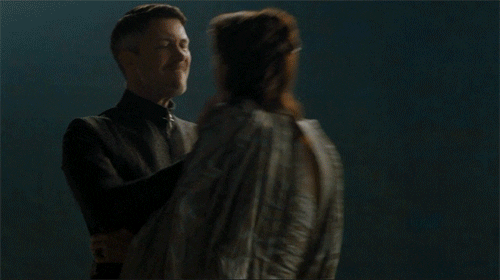 16. Daario and Dany finally getting it on:
17. Sansa smacks Robin. I couldn't find a "Dark Sansa" GIF:
18. This fight between the Mountain and the Red Viper was amazing. Even though it ended really, really badly.
19. And in the final shot, Arya heading to places unknown:
Do you think Game of Thrones deserved 19 Emmy nominations? Which show is going to win the top prize?
Image via HBO
Read More >