We're all happy that today is Friday, but we have extra reason to celebrate, considering it's also Khloe Kardashian's 30th birthday!
Yep. Our girl is the big 3-0, and we can only hope she's having a big party or, at the very least, is spending the day with the people she loves the most. And we simply couldn't let an occasion like this pass by without honoring Khloe in some way.
On that note, here are 30 reasons we absolutely can't get enough of Khloe in celebration of her milestone birthday.
1. Her sense of humor is totally on point! I mean ...
2. She totally puts her family first. And she loves her sisters more than anyone else.
3. She's the BEST auntie on the planet.

4. She wears her heart on her sleeve.
5. She doesn't take any shit.
6. This dress.

7. She's honest to a fault.
8. This bathing suit.

9. She doesn't take herself too seriously.

10. She's BFFs with her sister's baby daddy. And it's not weird.

11. She's supportive of other women.
12. She loses weight like a normal person ... through sweat and hard work.
13. But she's not obsessed with being skinny.
14. She knows how to party.
15. She always gives people the benefit of the doubt.
16. This.
17. She wore a pig mask. Proudly.

18. She's freakin' adorable. Baby voice and all.
19. She appreciates having a balance in life.
20. She's in charge of her own destiny.
21. She can handle a hater better than anyone else.
22. She says what we're all thinking ...
23. She's totally philosophical ...
24. This. Pure brilliance.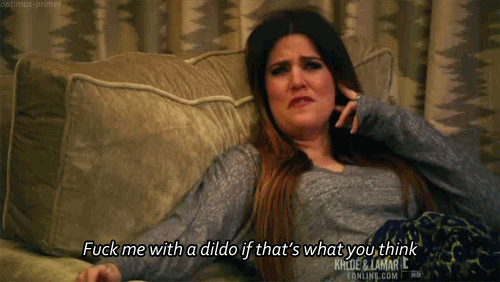 25. She's not afraid to call herself out when she feels it's necessary.
26. She puts up with her family even when they don't deserve it.
27. She always has the perfect comeback.
28. She always knows exactly the right thing to say in any situation.
29. She's always up for anything.
30. She's knows exactly who she is -- and she's damn proud of it.
What do you love most about Khloe?
Images via Jason Merritt/Getty Images; khloekardashian/Instagram; khloekardashian/Instagram; khloekardashian/Instagram
Read More >