If there's one thing I love even more than Jennifer Lawrence's inherently awesome Jennifer Lawrence-ness, it's Jennifer Lawrence's self-awareness regarding the fact that her famous Jennifer Lawrence-y attributes are constantly splashed all over the place in a passionate multimedia display of Jennifer Lawrence-levels of Jennifer Lawrence fandom.
She seems fully cognizant of the fact that the nonstop coverage of her goofy personality is verging on overexposure, and her self-deprecation paradoxically makes me like her even more. Basically, Jennifer Lawrence's humility, particularly as shown in her recent Marie Claire interview, has created a sort of Inception effect where each GIF-able layer of Jennifer Lawrence takes you deeper into adoration.
Lawrence is Marie Claire's June cover girl, and in the interview, she shot down rumors that she'd purposefully fallen at this year's Academy Awards:
Trust me, if I was going to plan it, I would have done it at the Golden Globes or the SAGS. I would have never done it at two Oscars in a row. I watch Homeland -- I'm craftier than that!
She went on to say she understands that audiences are likely to tire of her It Girl status:
Nobody can stay beloved forever. I never believed it, the whole time. I was like, just wait: People are going to get sick of me. My picture is everywhere, my interviews are everywhere.
Okay, but let's be honest, it's not really that she's being overexposed as an actress. It's that she's pretty much the only A-lister who behaves like our favorite crazy college friend wherever she goes.
I'm way too annoying because I get on red carpets and I'm really hyper, most likely because I've been drinking, and I can't not photo-bomb somebody if it's a good opportunity. But it's something I always tell myself: 'You need to calm the f*ck down. You don't want to constantly be a GIF.'
Yeah, at some point, the tide will probably turn and people will start mocking her, or whispering that she has a drinking problem, or whatever it is. The very nature of being an It Girl is that it's temporary. But I love Jennifer Lawrence for all her GIF-perfect hilarity, and I hope she doesn't completely wrestle her personality into submission in order to join the frozen-faced crowd of red carpet darlings.
I mean, come on -- do we really want a world without these glorious moments?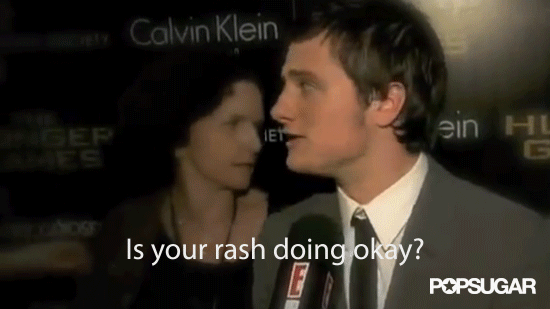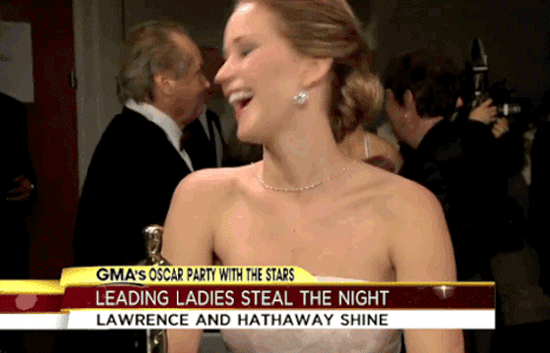 Ahhh, Jennifer Lawrence. Never ever ever ever stop being Jennifer Lawrence.
Image via Tumblr
Read More >