Happy Groundhog Day! You did remember amidst your post-Super Bowl hangover, didn't you? Time to hunker down, turn on your favorite movie (obviously Bill Murray's Groundhog Day), and indulge in the hilariously obvious: Punxsutawney Phil saw his shadow and we will be getting six more weeks of winter. Sorry, spoiler alert. Considering the Midwest is experiencing record snowfall and said snowfall is headed directly toward the East Coast, we've got one word for you, Phil: Duuuuuuuuuuuuuuuuuuuuh.
Insanely enough, this tradition has been going on for the past 129 years! But all we had to do (unless you live in much more sunny climes, of course) was take a look outside our window to know that winter is definitely here to stay. Seemingly forever and ever. And ever. Seriously, if you went into work today, you should try to get some hazard pay.
But needless to say, that shouldn't take away the tradition of having a group of people gather in Punxsutawney, Pennsylvania, on February 2 every single year to watch a tiny groundhog come out of his burrow on Gobbler's Knob to predict the weather. Hey, he's had a better track record than most meteorologists so far this winter, don't you think? Maybe we should give him some more credit!
More from The Stir: Wild Groundhog Day Snacks to Lure You Out of Hibernation
Because this is probably how most people around the country are feeling right about now: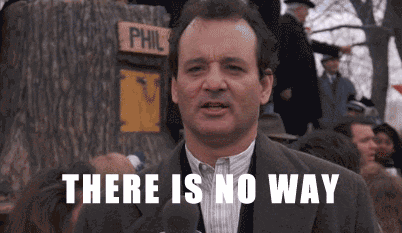 Okay, okay, here's some footage of the actual Punxsutawney Phil doing his thing, telling us what we've already known, but being so adorable while doing it (that is, if you think groundhogs are cute in the first place):
Haha gotta love it, don't you?
So it's official, folks, in case all these blizzards didn't tell you otherwise, prepare for another six weeks of winter. Thanks for the heads up, Phil, and let's hope that we can appreciate the spring that much more while we're in the midst of all this suffering and cold feet.
Back to the burrow you go! Until next year!
Do you tune in to watch Phil every year or do you think this is the most bizarre tradition ever?
Image via Groundhog Day
Read More >