In the grand tradition of superhero origin stories, Hello Kitty's past is about to be explored in painstaking detail in an upcoming retrospective of Hello Kitty art, merchandise, and fashion at the Japanese American National Museum, which opens in mid-October. We can expect to learn about how she's an enduring manifestation of Japan's culture of cute, known as kawaii, along with examples of her astounding cultural influence since she began life as a character on a coin purse in 1974.
Oh, and also in preparation for this exhibit, Sanrio -- the Japanese company that designs, licenses, and manufactures Hello Kitty products -- has clarified that Hello Kitty is not a cat.
Repeat: HELLO KITTY IS NOT A CAT. I know, right? This is like when scientists announced that oh, sorry, the Brontosaurus never even existed, everything you thought you knew is a LIE.
Christine Yano is serving as curator for the museum's retrospective, and she says when she was preparing written texts for the exhibit, Sanrio stopped her when she described Hello Kitty as a cat:
I was corrected — very firmly. That's one correction Sanrio made for my script for the show. Hello Kitty is not a cat. She's a cartoon character. She is a little girl. She is a friend. But she is not a cat. She's never depicted on all fours. She walks and sits like a two-legged creature. She does have a pet cat of her own, however, and it's called Charmmy Kitty.
It turns out Hello Kitty is actually named Kitty White. She's a "cheerful and happy little girl with a heart of gold" who lives in London with her mother Mary White, her father George White, and her twin sister Mimmy. She loves baking, traveling, listening to music, origami, piano-playing, reading, eating cookies, and making new friends. She's also a Scorpio who's around "5 apples" in height.
The L.A. Times has some fascinating information on why Hello Kitty became so popular, and why in particular she resonated with Asians who grew up in the United States, but I have to say I'm completely hung up up on the fact that she's not a cat. It's giving me a similar brain-freeze to the time I watched Stand By Me for the first time and the kid said, "Mickey's a mouse. Donald's a duck. Pluto's a dog. So what the hell is Goofy?"
In fact, this graphic fairly accurately captures my reaction to Sanrio's news:
Strangely enough, Sanrio has since backed off their statement a bit, first saying, "We never said she was a human," and then, "Hello Kitty was done in the motif of a cat. It's going too far to say that Hello Kitty is not a cat. Hello Kitty is a personification of a cat."
Basically, Hello Kitty is an anthropomorphism. Going back to the Mickey/Donald/etc. comparison, she's not quite an animal, but not quite a person either. Oh, but get THIS, when asked why her image never has a mouth, Sanrio said,
We never said Hello Kitty doesn't have a mouth. It's just not drawn.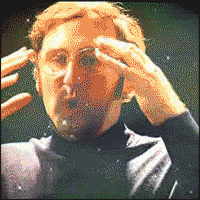 Were you devoted to Hello Kitty when you were a kid? What do you think of this SHOCKING DEVELOPMENT?


Image via taedc/Flickr
Read More >