If there is one thing that all of humanity can agree on, it's hating cable companies. Seriously, there is nothing more torturous, circuitous, distressing, traumatizing, or vexatious than trying to get anything done with a representative there. From Time Warner to Comcast, everyone seems to have their own horror stories (I most definitely have mine). But it's oddly comforting to know that misery loves company -- take Ryan Block's call with Comcast, for a prime example, as he tries to cancel his service.
He and his wife had switched to another provider, and their call with the Comcast representative was equally exasperating and entertaining. We've all been there, right? And what did disgruntled customers do before the Internet, anyway?
Well, Ryan wrote a SoundCloud post and of course uploaded the conversation. He writes that it begins about 10 minutes in (already 10 minutes of this?!), and both he and his wife had to take on this obviously delusional rep.
When his wife was transferred to cancellations, she became so infuriated with the rep that she handed the phone to her husband. The conversation was so unbelievable that he recorded it on speakerphone. He also notes: "Please forgive the echoing and ratcheting sound, I was screwing together some speaker wires in an empty living room!" In case you wanted to know.
Here is that call:
Incredible, right?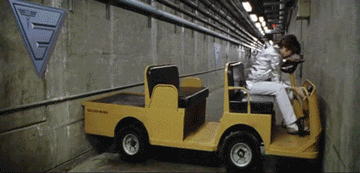 The service was disconnected by the end, but WOW. Comcast senior vice president of customer experience Tom Karinshak released the following statement Tuesday because of course they had to respond:
We are very embarrassed by the way our employee spoke with Mr. Block and are contacting him to personally apologize. The way in which our representative communicated with him is unacceptable and not consistent with how we train our customer service representatives. We are investigating this situation and will take quick action. While the overwhelming majority of our employees work very hard to do the right thing every day, we are using this very unfortunate experience to reinforce how important it is to always treat our customers with the utmost respect.
More from The Stir: Out of Control Customer Service Call Has to Be Heard to Believe (LISTEN)
Like that's gonna do anything. This is nothing new, and unfortunately customers will continually be treated like crap by cable companies. They have a monopoly and know that, sometimes, customers have no choice but to sign up for their service. It's so maddening when customers feel this powerless.
Still, kudos to Ryan for keeping his cool (I would have started swearing and grabbing a bottle of vodka at around the two-minute mark). It seemed it eventually all worked out, but just goes to show, when it comes to big, bad cable companies ... YOU ARE NOT ALONE. Now where is that vodka?
Do you have any cable company horror stories? Do tell!
Image via Grumpy Cat
Read More >