We have all seen the amazingly adorable images of Chris Pratt obviously being the most amazingly adorable dad in the world hanging out with his amazingly adorable kid Jack. "Gee," you have probably wondered to yourself, "I wonder what Chris Pratt would be like if he were my male nanny?"
Well, wonder no more, dear reader, because we know exactly how that whole scenario would go down.
Chris Pratt isn't married to a gorgeous, funny starlet, and he doesn't have a kid. Because, you know, he is just sitting around and being Chris Pratt and you are minding your own business and hanging out at the park with your kid when suddenly (!) he just happens to be at this same park and asks you if you want help pushing your kid on the swing. And boy, do you!
"Hey, Chris Pratt," you say. "You are great at pushing my kid on the swing. Do you want to be my new male nanny?"
And guess what? He says yes!
Now you can go back to school, or work, or finishing your bestselling novel that will one day be turned into a romantic comedy starring Chris Pratt!
More from The Stir: 99 Simple Steps To a Single Mom's Netflix & Chill Night
And Chris Pratt turns out to be the best hired childcare worker you could ever imagine, because not only is he funny and great with your kid, but he is also sort of nice to look at.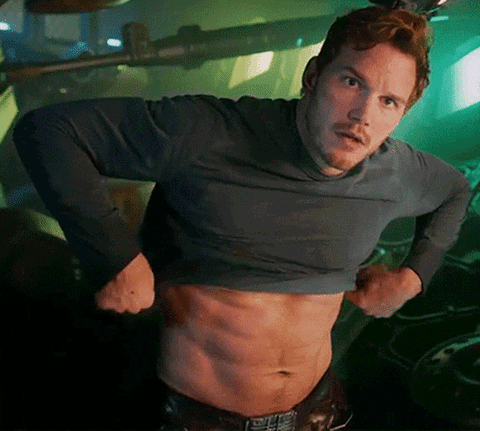 But more importantly, he is great with your kid and has many skills. For instance, he can do hair:
And he is a great dancer:
He knows all the names of your kid's favorite make-believe games:
And you have many other things in common, which makes him the ideal nanny for your child:
Plus he is reasonable, safe, and reliable!
Everything is going great -- until one day Chris Pratt comes to you with a serious expression on his face:
And you know what's coming, and you start to feel all nervous in the pit of your stomach:
So you stop him right there and send him back to Hollywood all brokenhearted, because even though he is a great male nanny, you know he has to go back to being rich and famous and making movies. And he doesn't take it very well:
So poor Chris Pratt -- even though you broke his heart, he was still the best imaginary male nanny you ever had!
Image via © Xavier Collin/Image Press/Splash/Splash News/Corbis
Read More >