Valentine's Day is fine -- assuming you have a "valentine" and that said valentine's idea of a romantic evening/gift matches up with yours (because that always happens, right?). But Galentine's Day? Galentine's Day is where it's at, and if you don't know what I'm talking about, well, your life is about to change in ways you never imagined. (Good ways, I promise.)
Founded by I'd-totally-vote-for-her-for-president Leslie Knope (Amy Poehler) of Parks and Recreation, Galentine's Day, which falls on February 13, is a time to celebrate all the very special ladies in your life in an empowering, hanging-with-my-girls-is-way-more-fun-than-getting-a-bunch-of-stinky-old-flowers sort of way.
More from The Stir: Why 'Moms' Night Out' Should Be Banned
In short, Galentine's Day = ladies' night, oh what a night! (Even if it was more of a brunch type thing Parks and Rec. Hey, Leslie Knope loves herself some waffles!)
So if you haven't already made Galentine's Day plans, it's time to send out a group text to your crew of BFFs, stat. Yes, get out and treat yo'self this Friday night. Just don't let the festivities get too out of hand (because, um, social media and your kids knowing how the Internet works). Here are some tips for how to not ruin what's bound to be THE BEST NIGHT EVER!!!
1. Don't freak out if anybody tries to act like they don't get what Galentine's Day is all about, just be like: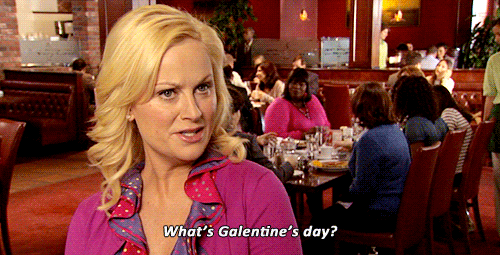 "It's like Lilith Fair, minus the angst." OBVI.
2. Don't assume your outdated dance moves are gonna hold up at "da club."
Even though you look fabulous, darling.
3. Maybe wait until you get home to dive into that heart-shaped box of chocolates you got from your sister as a Galentine's Day grab bag gift.
Although at least your sister will tell you if you have chocolate on your face. (Or will she??)
4. Remember to pace yourself -- you don't get out that much anymore!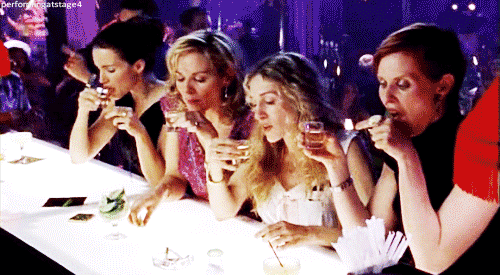 They didn't write that SHOTS, SHOTS, SHOTS song for people your age.
5. If you do get a bit too tipsy, don't ditch your girls to get flirty with the bartender.
Don't you have a valentine at home??
6. Don't spend the whole night complaining about your ex -- ain't nobody want to see your ugly cry-face on Galentine's Day!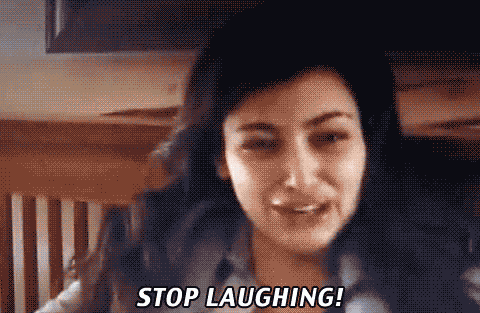 Admit it, you do look pretty funny.
7. Plus, if you start talking about your ex, you're bound to get in an argument with that one friend of yours who always hated him.
(She did tell you so, though.)
8. Still, that doesn't mean you want to get too cozy with your gal pals (unless that's your thing, of course).
That would give new meaning to the word "galentine."
9. Chances are by the end of the night, you'll all be wondering why you don't just marry each other anyway?!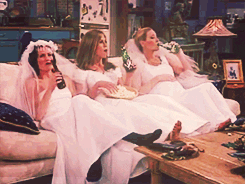 As long as you get to wear your dream dress, what's the difference?
10. Cause without your girls, you'd be spending Galentine's Day home alone doing this:
Not that there's anything wrong with that.
How are you spending Galentine's Day?
Image © iStock.com/solitude72
Read More >