You gotta love MAC Cosmetics. To celebrate The Simpsons turning 25 (take a moment here to feel ancient with me please), they are releasing a Marge Simpson-themed makeup collection. I can't even with this news! Fingers crossed that this kit will include a mile-high blue beehive or it isn't worth my time. At the very least I want banana-yellow eye shadow and crazy falsies.
Marge might seem like an unlikely beauty icon, but when you really think about it, she's a natural. There are countless reasons why she's the perfect choice of a cartoon to honor with a makeup list. But because we love counting here at The Stir, I've come up with a list. So gird loins, because here are 6 reasons Marge Simpson is the perfect beauty icon for moms.
1. She isn't afraid to take risks.
I mean, rocking blue hair in the tiny superb of Springfield? That's bold.
2. She works what she's got.
Who needs to overdo it with loads of face-paint when you've got such luscious lashes and a killer bod? Marge knows how to play to her strengths.
3. She does her own makeup.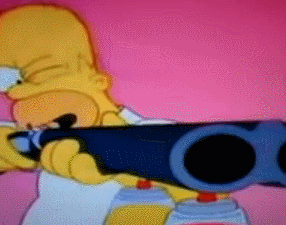 She may be super-famous, but Marge prefers to do her own makeup. She's probably still traumatized by Homer's makeup gun.
4. Her lipstick is always on point.
The woman is basically a later-day Clara Bow.
5. She takes haircare seriously.
It's no laughing matter, you guys.
6. She's more than just a pretty face.
Beauty is more than how you look -- it's how you speak, what you say, and what's in your heart!
Who's your favorite animated beauty icon?
Image via Corbis
Read More >